Give-Away: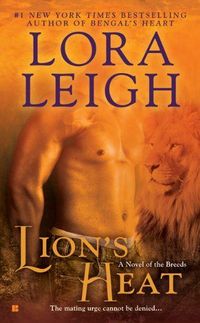 This Give-Away is brought to you by Kainani. She is a friend of mine I met through our love of reading.
Yesterday morning we had a small rendezvous with Starbucks treats and great conversation.
Kainani had a few books she offered to me to Give-Away since they are sitting on her shelves.
Two books for this Give-Away are Lora Leigh's Bengal's Heart and Lion's Heat. These books are 19 and 20 in the series with 21 coming soon: Styx's Storm (Oct 2010).
Bengal's Heart
Synopsis:
"Reporter Cassa Hawkins has always supported Breed rights, believing they should be allowed to live free of fear and prejudice among the humans. A reasonable woman couldn't think otherwise, especially in the presence of Cabal St. Lawrence, a spectacularly muscled specimen of the Bengal breed. The epitome of the male animal, his sensuous growl can fire up Cassa's vulnerable body faster than a flame. Yet neither can ignore the nightmare unfolding around them...

The Breeds have been incriminated in a series of violent murder, and accused of hiding a vicious serial killer. It's left to Cassa and Cabal to discover the truth. But as hunter becomes prey, are trust and passion enough to keep them alive through the night"
Lion's Heat
Synopsis:
"Bad boys Jonas Wyatt's personal assistant, Rache, has had a child—an innocent new life that has been put in grave danger because of Jonas's perilous games and calculations playe in the shadow-world in which he lives: the dark and sensual world of the Breeds. Now, Rachel is making only one demand of Jonas: that he finally take responsibility and deliver on the protection that only he can give.

Jonas has known for a ling time that it is destiny that Rachel become his mate. He can sense it. He can also sense her reluctance. And for that, he refuses to claim her. He wants he on love alone and not because of the utge of the mating heat. But it is Jonas's destiny to claim her. And he will have his way..."
To Enter:
*Open to followers
*U.S. addresses only
But I will ship to anyone winner decides doesnt have to go to them.
* I will email winner
winner will be selected via random.org.
*Leave a comment to enter
*include email if not in profile

*These books are gently used.
Deadline Hawaii Time June 6th